Marriage Proposal: A Few Great Ideas to Take The Plunge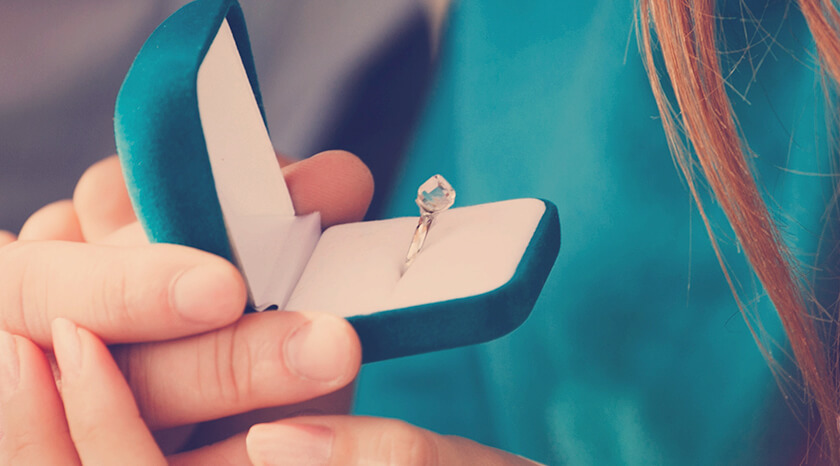 The idea of asking your partner for their hand in marriage started taking shape in your head, but you still don't know where to start. Don't panic! As in any good project, there are certain steps to take before reaching your goal and certain information to know beforehand. Thus, here are a few ideas that should guide you through this beautiful marriage proposal process.


A Personalized Proposal
Any good marriage proposal requires some preparation. The goal is that your request resembles you, but also mirrors the image of your couple. In this sense, you must take the time to plan everything so that this important moment represents your relationship well. Depending on the image of your couple and the preferences of your partner, you will succeed in creating a unique and memorable moment. Here are some ideas that might inspire you.

For Romantics
If you are the romantic type, there are many ways to ask for your partner's hand. You could go to their favorite restaurant and place the engagement ring in a glass of sparkling wine, or propose while watching the sunset. For an even more meaningful moment, why not make your proposal in a more symbolic place for you two like the place where you first met or where you exchanged your first kiss? And don't forget to get down on one knee when you propose!

For Adventurers
If you are an adventurous couple, you may want to mix your courageous side at this special time. Get down on one knee at the top of a mountain you both hiked, through a rally you have organized, when reaching the ground after a parachute jump or at the bottom of the sea during a scuba diving session. Why not take out a "Will you marry me?" sign in the middle of a rollercoaster ride and buy her the picture of the descent to surprise her? One thing is certain, your beloved half will always remember this extraordinary proposal.

For Techies
If you like technology, it can certainly help you create a proposal that reflects your image. Whether it's creating a touching video in which close family and friend asks them the big question on your behalf or by reproducing their favourite place in a virtual reality game, technology leaves room for a lot of imagination.

For Athletes
If you are two great athletes, your proposal can be very well mixed with your favourite sporting activities. Propose at their favorite sport team's stadium or offer them a ring in front of the breathtaking view of a mountain you have just hiked. You could even create a special jogging route where she will notice key places that are related to your relationship such as the place of your first date or her favourite restaurant, etc. All you have to do is accompany her or wait for her at the finish line.

For Introverts 
There is absolutely nothing wrong with keeping your proposal more discreet. Some people prefer to live this moment in intimacy! Tell yourself that simply going down on one knee in front of your partner is already an event in itself. A small path of candles and roses on the floor could well be the ideal atmosphere to live this unique moment. You could even take the opportunity to involve your children in the process by giving them a role or even include your pet in the proposal by tying the ring around its neck!

The Different Types of Rings
Of course, a marriage proposal means buying a ring. Indeed, the ring is certainly one of the key elements of your proposal and that is why you must first understand the different rings available on the market before buying one.

Engagement Ring 
The engagement ring is the one offered when you propose to your significant other, so usually, the main ring. It is usually a ring with a more predominant stone.

Wedding Band
The wedding band is generally the simpler ring that is used at the wedding ceremony. For the woman, it is usually added to the engagement ring and for the man it is a unique band that symbolizes his commitment. The bride and groom slip it on each other's finger to seal their union.

Wedding Ring
Wedding rings are not new rings to get, but rather the term used to encompass the combination of the engagement ring and the wedding ring. They are sold together and match perfectly.

Promise Ring
If you are not yet quite ready to make your big proposal, but want to demonstrate your long-term commitment with your significant other, a promise ring may be the ideal choice for you. Small, the promise ring is usually offered before the engagement ring and has great significant value.

Which Ring Should You Choose?
Choosing a wedding or engagement ring requires some attention, but above all a lot of discretion. If you don't want to reveal your plans, be careful when doing your research or when seeking advice from relatives.

To inspire you, here are some very popular rings that might interest you.

Although the choice of the ring is very important, it should not make you anxious. That's why many jewellers have a great return policy that allows you to choose a ring with peace of mind. If the ring does not suit their style or if it is not the right size, don't worry, you can often return it, under certain conditions. Get informed and contact the store for more details.


Keep in mind that your proposal is a unique moment that should reflect your style. Whether it is the choice of the location, your proposal or even the ring, everything should reflect the style and the personality of your couple. In this sense, you are the best person to know what will please the love of your life. Trust your instincts!

Discover our selection of wedding rings to inspire you!